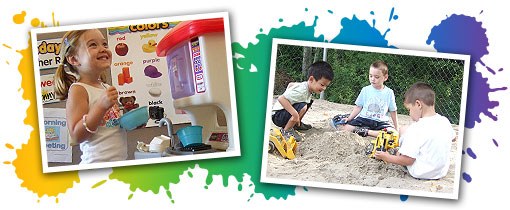 Welcome
Breezy Knoll Child Care Center celebrates 28 years!
We are a Rhode Island Early Learning and Development Standards Based Center offering a warm, nurturing, and safe environment where children can learn and grow at their own pace. Our curriculum is planned to address the domains of the standards: Physical and Motor Development, Social and Emotional De.velopment, Language Development, Literacy, Cognitive Development, Mathematics, Science, Social Studies, and Creative Arts.

Well-Rounded Programs
We offer programs for Toddlers (18-36 mos.), Preschool (3 yrs. old), Pre-K (4 yrs. old), Kindergarten (5 yrs. old by September 1 of the school year), and Before and After School (6-10 yrs. old). We also offer a summer camp in all of our programs.
Our curriculum is written in alignment with the Rhode Island Early Learning and Development Standards, offering children a schedule balanced with group time and independent exploration; active time and quiet time.


Schedule a Tour

Breezy Knoll Child Care Center is a secure facility. We ask for the courtesy of a phone call or an email to schedule a tour of the center. We will then arrange a mutually convenient time. During the tour, you will visit all of the classrooms and our three playgrounds and observe the children in their daily activities. We promise you will see many happy faces, both indoors and outdoors! If you would like information about the center prior to a visit, we can either send it to you by email or regular mail.
Our programs are filling up quickly. Don't be left out! Call us at 401-232-7177 or email us today! info@breezyknollchildcarecenter.com


Signing In/Out
Please remember to sign your child in and out each day. it is very important for us to have an accurate record of your child's attendance. -- THANK YOU!
EMail Address Updates
We are trying to communicate with our families by email as often as we can. There are many times when we need to send home paperwork, but for notices and the newsletter, email is very effective and saves a lot of paper! Kindly email: info@breezyknollchildcarecenter.com to confirm the address we have on file for you. Thanks!