What Our Families are Saying
What do you think about Breezy Knoll?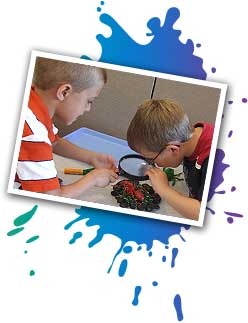 We think Breezy Knoll is the absolute best early learning center we have experienced. There are so many things we love about Breezy Knoll. There is a great variety in the activities our daughter does… we love the music… everyone is kind and friendly… everyone seems to genuinely care about kids… We feel like all of the teachers are competent and we trust all of them…we love Franklin the turtle and the fish in the toddler room…We love how the teachers make play dough with the class…we could go on and on all day with everything we like about Breezy Knoll.
After struggling for over 10 years to become a parent, you would think leaving your child at a center to go to work would be difficult. I only knew my little girl 4 months before she met her friends at "The Knoll," and it's our home! What a place!
Breezy Knoll is an outstanding place for children to learn, play, and grow.
BKCCC is a caring, nurturing, and consistent place for children, where they will be educated and socialized appropriately.
Being new to BK, I chose them because of the "loving" environment they provide to the children.
Breezy Knoll has become like our second family. We are so grateful for Breezy Knoll.
I like the Toddler Room separate from the Preschool. The new set-up with the couches in Reading Area is wonderful. I love the amount of outdoor time too for the Toddlers!
A fun place for kids to stay; an attractive place for kids to learn.
So glad we found you through high recommendations of another Breezy Knoll family!
I find Breezy Knoll amazing! We moved our daughter from one day care center to Breezy Knoll this past summer, and within a few weeks, she is potty-trained and happy – no longer moody.
It's a great place for children to learn; educationally, emotionally, and physically. The teachers are lovely and all work together very well.
Love the activities, the structure and schedule, but also flexibility. I love that, if it's a nice day, the kids get extra outside time – so important at this age – 4.
Safe and comfortable environment for our child.
Home away from home – many generations of families working at or attending BK – makes atmosphere "safe." Staff are like second Moms to my kids!
I couldn't have chosen a more efficient, caring preschool for my daughter to attend. I have and will continue to recommend Breezy to everyone I know.
We love Breezy Knoll! It is a safe, clean environment, with a group of teachers and administrative team who are, to say the least, incredible. I never have to think twice about leaving my child in their care.

What do you appreciate most about
Breezy Knoll?
I appreciate the consistency of the staff, and I love knowing that I have known many of the teachers for over 16 years! I now have a daughter in the pre-med program at PC who began her training at 3 years old at BKCCC!
I appreciate the fact that the entire staff knows and cares about my daughter and my family. I never feel as though I am dropping her off at a childcare center; I always feel that I am leaving her with friends, and that is very comforting to me.
We appreciate that they care so much about our children, and allow us to have peace of mind when we leave them.
We appreciate that each child is treated as their own person. They are not grouped together or lost as an individual. Also, each teacher takes the time to understand the needs of each child and know who they are.
I really appreciate how all the staff take the time to engage each child every morning.
How happy all the teachers make me feel everyday. They work hard!
They are caring and always willing to go the extra mile.
I enjoy the caring of the staff and courtesy they extend to the parents.
I don't have to worry about anything about my kids when I go to work.
We love the kindness! Everyone listens to you and your suggestions and questions are answered. The care is motherly and tender – so warm!
We appreciate:
Consistency of the staff
Family atmosphere
Overall sense of caring for the children
We appreciate the way the teachers and staff have our children's interest at heart in their decisions.
I appreciate how we are always greeted in the morning with a smile. That makes my child and me feel welcome.
The daily schedule, the teachers always approaching us in the morning drop-off to make us feel welcome.
We appreciate the fact that we know that our child is in loving and nurturing hands while they are at BKCCC.
I appreciate the understanding that all the staff has demonstrated in relation to personal/family situations.
We appreciate the extra care and concern that has been shown to our daughter. When she gets cold, she turns blue – the toddler teachers take extra care in keeping her warm and healthy. Also, there was a time when she needed to eat more frequently than the
typical toddler. Again, the teachers took special care of our little girl and gave her part of her lunch early every day. It's these little things that we especially appreciate and that show us how special the Breezy Knoll staff is.

How has your child benefited from the
Breezy Knoll experience?
He feels secure, cared about, and I know it is the next best place for him to be next to home!
Our daughter has gained in every area, especially her language. She is just 2 and already starting the potty!
Our child has benefited tremendously while being in the care of BKCCC. He has grown into a confident but caring young boy, who is eager to go to school everyday.
He is very well-rounded and has excellent development.
My daughter has learned so much and developed in such a positive manner. She has also made great friends that she looks forward to seeing everyday.
He loves school, loves his teacher, and all his friends, and is so eager to learn. I know this is because of the safe, nurturing environment Breezy Knoll provides.
My daughter has made friends; she has learned many new songs and has just all around "learned."
Our son feels good about himself. Our daughter can be herself, just like at home.
She has matured so much and is so much happier. She loves her new teachers, as well as her teachers from the summer.
We originally enrolled our daughter for socialization purposes, but we have been amazed at how much she has learned – from letters to counting to days of the week and nutrition and leaves on trees – I could go on and on. We are very pleased with the education she has been getting and just as important are the friendships she has made.
Constant development
Absolutely, he loves it and knows exactly what to expect during his day. The schedule and structure are so important to him.
He's learned about scheduling and time. He's also learning to interact with children his age and how to share.
Their confidence is improved.
Our daughter is extremely social and has matured well in the welcoming environment of Breezy Knoll. The teachers have great discipline in their classrooms, and she feels safe there. She especially loves music and all of the songs her teachers sing everyday. She is so happy to go to Breezy Knoll every morning. I think she would come on the weekends if she could!
He has made progress with his attention span.
Enhanced social skills, learning numbers, letters, how to be a part of a group and
prepare for school. He is thriving due to many factors, one of which is his experience at Breezy Knoll.